In this blogpost we zoom in on the new Power BI datamart technology. This new addition to the Power BI landscape enables business users to create a data warehouse with a no-code user interface. A very exciting prospect for many Power BI users!
What is a Power BI datamart?
The Power BI datamart aims to bridge the gap between the business users and IT. It enables the business to create a data warehouse within the trusted and familiar no-code user interface of Power Query in the Power BI Online environment.
The technology enables users to Extract, Transform, and Load data (ETL) through the Power Query user interface and store the data into a fully managed Azure SQL Database. This SQL Database is then transformed into a Power BI Dataset which you can use for visualization in Power BI Online or Desktop.
The datamart also enables users to create relationships and measures. This means that you can do ALL of your transformations and calculations in Power BI online, moving all data engineering work upstream.
In addition, the SQL endpoint which is provided in Power BI Online can be used by other programs such as SQL Server Management Studio (SSMS). Furthermore, users are able to query the data in Power BI Online with a no-code tool, or by writing T-SQL scripts.
The image below provides an overview of all functionalities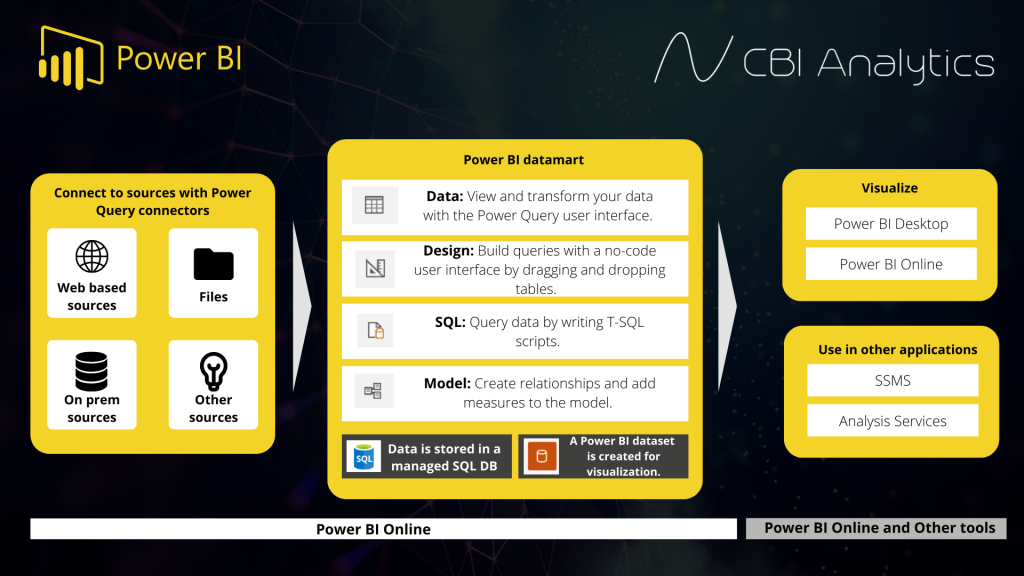 Why did Microsoft create this?
Microsoft created the datamart to relieve the dependancy on IT departments. Usually, requests for the creation (or updates) on data warehouses takes a lot of time. This results in business users creating their own datamarts in non-governed programs such as Excel, Access, or SharePoint.
The Power BI datamart provides the following advantages:
It enables business users to create a relational database in a governed environment.
The datamart provides a no-code solution for ETL and data exploration.
The datamart shifts data engineering work to Power BI Online, seperating engineering from visualization. This creates a safer and more governed way of working.
Datamart: Why should you use it?
The datamart technology looks very promising, and could transform the way business users work in Power BI.
By creating a datamart you split the engineering work from visualization, meaning that you have a more robust data source with enhanced governance. This is far better than using Access or Sharepoint, and relieves the depencandy on IT.
In addition, it is extremely easy. The tooling is no-code and it very similar to the Power Query that you are used to!
But, keep the following in mind:
Datamarts are in preview, meaning that the product can still have some bugs. Microsoft will be working on improvements based on the user experience and feedback.
Datamarts can only be used through premium per user and premium capacity.
There is no certaincy on when this feature becomes generally available.
In the next blogpost we show you how you can set up a datamart! This will give you a better understanding about this technology and the functionalities.